About Hawk's Cry
Stained Glass Studio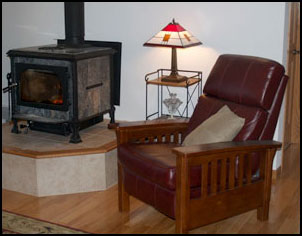 Initially inspired by the work of Frank Lloyd Wright, Jeanna (Jean) Davids-Osterhaus has been creating distinctive stained glass art for nearly ten years. With the completion of the Hawk's Cry stained glass studio in Richland County, her stained-glass work is expanding in many exciting directions.
As the birth home of Frank Lloyd Wright, it is no surprise that renewed inspiration is found in the designs that evolved throughout Mr. Wright's career in southwestern Wisconsin. Jeanna's original and replicated designs in the Mission and Arts and Crafts styles are the perfect compliment to her interest in Mr. Wright's work.
In addition to the traditional leaded glass styles, are thematic stained glass pieces in Tiffany style glass. From dazzling window accents and lamps, to holiday themed sun-catchers, these meticulously handcrafted stained glass pieces are not only affordable, but also certain to add style and distinction to any home or business.
The written copy, designs, poetry and photographs on the pages of the Hawk's Cry Farm, Hawk's Cry Stained Glass Studio, and Hawk's Cry Haiku Workshop websites (unless noted otherwise) is original and copyrighted and may not be copied or reproduced without written permission of Mark and Jeanna Osterhaus.