Seasonal Harvests
| | |
| --- | --- |
| | A wide variety of flavorful and nutritious foods are produced or harvested at Hawk's Cry Farm. Grown at the pace of nature, the availability of this produce is seasonal and highly variable. We suggest joining our email list for advance notification of availability and price. |
Hawk's Cry Production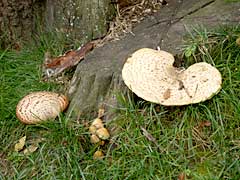 Eggs – Fresh, nutritious and flavorful eggs from free-range heirloom hens. Collected daily, with the highest production in the spring, summer and fall.
Honey – Recently established hives produce deliciously sweet honey, while aiding in the natural pollination of trees, plants and area crops. Harvested and packaged in late summer or early fall.
Garden Produce – A wide variety of squash, pumpkins, lettuce, beans, corn, and more!
Hawk's Cry Harvests
Morel Mushrooms – These much coveted and mysterious mushrooms grow throughout the Hawk's Cry Farm woodlands in early spring.
Maple Syrup – Spring 2009 is the target date for the first harvest of maple syrup in the Hawk's Cry woods. Jeanna's family has a long history making syrup on the Stockbridge Indian Reservation in northern Wisconsin.
Hickory Nuts – Hawk's Cry Farm is blessed with an abundance of Shagbark Hickory Trees. The nuts are collected in mid to late fall, if we can get to them before the squirrels!
Black Berries and Raspberries – A late spring and early summer treat, found throughout the Hawk's Cry woods.